MyChamberApp
The Waynesville-St. Robert Chamber of Commerce would like to introduce...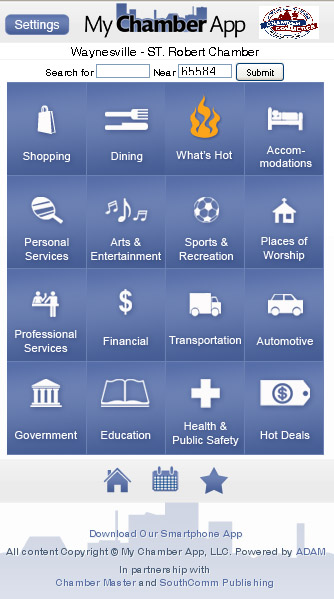 We are excited to introduce My Chamber App, a free, interactive mobile application that allows smartphone users to carry the chamber member directory in their pockets. All Waynesville-St. Robert Chamber members automatically receive a standard listing with company name, category, primary phone number, address, directions and one keyword. Your businesses will be organized by category based on the type of service you offer, but users can search the directory using keywords. The GPS feature also allows users to find businesses near them.
My Chamber App is the only nationwide mobile directory for local chamber members. More than 40 chamber organizations have signed on. When you visit those other cities, click on the "Chamber" menu to select another area's data. Similarly, visitors to Waynesville-St. Robert who have the application will find your listings.
The free application is available for iPhone, iPad, Droid and Blackberry phones. Go to your phone's app store and search for "My Chamber App" or visit www.mychamberapp.com from your mobile browser.