Our Chamber
Waynesville-St. Robert Board of Directors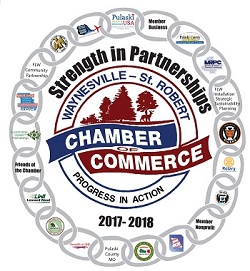 Josh Deavours, President
Citizens Bank of Newburg
St. Robert, Term: 2015-2018
(573) 336-2076
josh@citizensbankofnewburg.com

Melissa Shelden, Vice-President
Westside Salon
Waynesville, Term: 2017-2020
(573) 774-3100
westsidesalon@hotmail.com

Janel Rowell, Treasurer
Ehrhardt Properties
St. Robert, Term: 2015-2018
(573) 336-3553
janel@fortwoodhotels.com

Carrie Williamson, Director
Smith & Turley
St. Robert, Term: 2016-2019
(573) 336-5222
carrie@smilthturley.com

Dr. Chris Berger, Director
Waynesville R-VI School District
Waynesville, Term: 2017-2020
(573) 842-2069
cberger@waynesville.k12.mo.us

Shawn Cordry, Director
Flat Branch Mortgage
Member at Large, Term: 2017-2020
(573) 232-1120
shawn_cordry@hotmail.com

Deborah Baker, Director
Pulaski County Health Department & Home Health
Member at Large, Term: 2015-2018
(573) 736-2219
bakerd1@lpha.mopublic.org

Theresa Steward, Director
American Family Insurance
Waynesville, Term: 2016-2019
(573) 774-5900
tsteward@amfam.com

Kent Burns, Director
Waynesville Masonic Lodge #375 A.F. & A.M.
Waynesville, Term: 2017-2020
(573) 433-4400
wkburns@yahoo.com

Chris Wilkins, Director
Sellers-Sexton, Inc.
St. Robert, Term: 2018-2018
(573) 336-2000
cwilkins@sellerssexton.com
Chamber Staff
The Waynesville - St. Robert Chamber of Commerce is a voluntary organization of citizens who are investing their time and money in a community development program, working together to improve the economic, civic, and cultural well-being of the area. Any citizen who is interested in helping to develop the area (which means more money, more business, more jobs, and better living for everyone) is eligible to be a member of the Chamber of Commerce. The work of the Chamber is financed by the investment of the members. The Chamber is composed of the Chamber Membership, Executive Board, Board of Directors, Committee Volunteers, an Executive Director, and Staff.
Chamber Mission Statement
The mission statement of the Waynesville-St. Robert Area Chamber of Commerce is to be the motivating force in advocating, coordinating, leading and promoting existing and future business development, economic diversity, and tourism. We shall enhance the quality of life through programs, services, community development, recognition, and pride.
Chamber Objective
The Chamber is committed to advancing the commercial, industrial, agricultural, educational, civic, and community interests of the residents and businesses in the cities of Waynesville and St. Robert and the surrounding area.

Contact Us
Waynesville-St. Robert Chamber of Commerce
137 St. Robert Blvd., Ste. B
St. Robert, MO 65584
573-336-5121
573-336-5472 fax
www.waynesville-strobertchamber.com
chamber@wsrchamber.com