Operation Workforce Job Fair

Looking for Employees? Then plan to attend. The Waynesville-St. Robert Chamber of Commerce presents the 12th Annual Operation Workforce Job Fair. Interviewing booths will be available for on-site employee/employer interviews. Employers will need to fill out a registation form, participation is free to Chamber members, there is a $50 fee for non-members.
This event will take place Thursday, August 25, 2016 at the The ARK Community and Sports Center from 10:00 a.m. to 2:00 p.m. with set up from 9:00 a.m to 10:00 a.m. This event is free for job seekers.
OPERATION WORKFORCE is a workforce recruitment program promoting the connection between employees and potential employers. For more information contact the Chamber office at (573) 336-5121.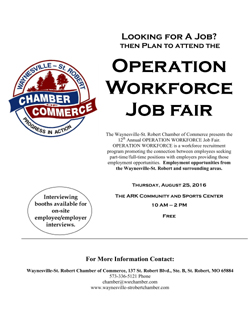 Below are photos from the 2015 Operation Workforce Job Fair.