Veterans' Day Ceremony & Parade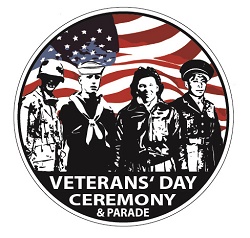 The Waynesville-St. Robert Area Chamber of Commerce and the cities of St. Robert and Waynesville hosted the 2017 Veterans' Day Ceremony and Parade on Saturday, November 11th.
The ceremony was held at 11 a.m. before the parade recognizing Kathi Crawford as the 2017 Veteran of the Year.
View video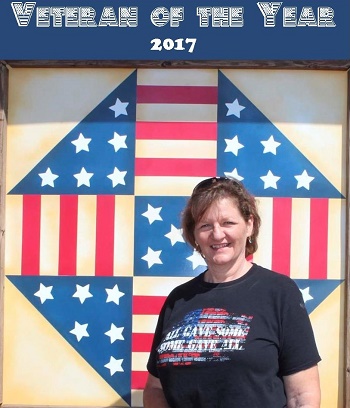 Kathi Crawford was born on 6 July 1962 in St Joseph, MO. She joined the Naval Service in Kansas City, MO on St Patrick's Day 1981. She attended boot camp in Orlando, FL, and attended Equipment Operator "A" School in Gulfport, MS, officially making her a Seabee.

Kathi's first tour of duty was PWD Submarine Base, Pearl Harbor, HI, as a crane operator. In February 1983, she reported to Public Works Division Diego Garcia, BIOT where she was one of the first females stationed on the island. Her duties included crane operator, project supervisor, and dispatcher. In February 1984, Kathi reported to Naval Support Activity in Naples, Italy. Her duties involved barracks upgrades, MLO/Supply PO, and crane operator. She then reported to Construction Battalion Unit 410, Mayport, FL as a plank owner in February 1986. Performing as Alpha 3 and Alpha 6, Kathi was honorably discharged at her EAOS. As a civilian, she worked as a crane operator building bridges in Fort Walton Beach, FL.

After returning to active duty in Jul 1989, Kathi's duty stations included: Naval Air Station Bermuda where she earned her Seabee Combat Warfare Specialist and Air Warfare Specialist, Amphibious Construction Battalion ONE, Coronado, CA, where she served as Air Detachment Operations Chief to Pohang Korea, first enlisted female stationed in Naval Mobile Construction Battalion ONE, Gulfport, MS with deployments to Guam and Rota, and Spain as Transportation Supervisor and Training Chief. Next, she reported to Naval Construction Training Center, Gulfport, MS as the Advanced Schools Company Commander, Naval Military Training Company Commander, and Operations Chief. She then attended the Senior Enlisted Academy in Newport, RI, and then returned to Naval Mobile Construction Battalion ONE in Gulfport as Alfa Company Chief for Rota, Spain and Officer-in-Charge for Detail Lemoore. She retired with full honors in June of 2002.
Master Chief (Ret) Crawford earned a Bachelor of Science Degree from Southern Illinois University, Seabee Combat Warfare Specialist, and Enlisted Aviation Warfare Specialist.

Kathi is authorized to wear the Navy Commendation Medal (3 awards), Navy and Marine Corps Achievement Medal (two awards), Good Conduct Medal (five awards), National Defense Service Medal, Humanitarian Service Medal, Battle "E" ribbon (two awards), Sea Service Deployment Ribbon (three awards), Overseas Service Ribbon (three awards), Expert Rifleman Medal, and Expert Pistol Medal.
Master Chief (Ret) Crawford resides in Crocker, MO with her husband EOC (Ret) Bill Crawford, and rides her motorcycle with Christian Motorcycle Association around the country every chance she gets "Changing the world, One heart at a Time." Crawford also rides with the Patriot Guard Riders to honor our Nation's fallen.

In addition to Kathi's activities with CMA & PGR, Master Chief (Ret) Crawford also selflessly gives her time and skills to the following Pulaski County area organizations: Ozark Quilt Trail Executive Board, Gone to Pieces Quilt Guild board member (chairman of Military Quilt Committee), and Kickapoo Trace Muzzleloaders Club. Kathi is also a member of the Missouri State Quilt Guild, and is a Missouri State Fair award winner quilter.

Additionally, Crawford travels to Mississippi each year to escort a Korean War veteran along with a Vietnam War veteran and his wife to the Seabee Ball. She also is a champion for Pulaski County's veteran population, and often provides travel to and from doctors appointments, shopping trips and errand completion along with outings to the movie theater.

Please join us in honoring Kathi Crawford at this year's Veteran's Day Ceremony and Parade in St. Robert.